The major activities of the Green Group of Delhi are around environment protection to save the environment from air pollution, dust pollution, noise pollution, water pollution, etc. in order to minimize the effect of pollution on Climate Change.
This is a non-political, non-partisan Group. The activities of the Group are being handled by its members and volunteers. Formed in August 2017, the Group had begun its journey from Dwarka, which is the largest residential suburb in Asia with a population of more than 1 million. However, it now covers other parts of India's capital New Delhi and surrounding areas such as Gurgaon, Noida, and Faridabad.
The overall activities of the Green Group of Delhi are being managed by Rakesh Raman who is a national award-winning journalist and social activist.
You can read the e-book versions of the Clean Climate magazine for different months. Click the "Fullscreen" box to increase the size of the e-book.
December 2018
You can read the e-book version of Clean Climate December 2018 issue which is given below. Click here to download.
You can read the e-book version of Clean Climate November 2018 issue which is given below.
November 2018
You can study and share the e-book version of our recent report on lethal dust and noise pollution in Delhi.
---
Click the Following Image to Download Our Other Report on Pollution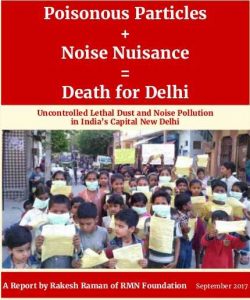 ---
Pollution Level in Delhi: 122 The air in Delhi has an annual average of 122 µg/m3 of PM2.5* particles. That's 12.2 times of the WHO safe level. This is an extremely dangerous pollution level. *PM 2.5 concentrations measured in micrograms of particles per cubic meter of air (µg/m3). Click here to know the pollution levels in other cities.
---
Meet our Greeners At present, the activities of the Green Group are being supported by the following members (names in alphabetical order):
The activities of different organizational areas are being run by the following Green Group members / volunteers:
| | | | |
| --- | --- | --- | --- |
| Public / Media Relations | Outreach Programs | Administration | Development |
| Deep Shree | Balbir Singh | Shailendra Saxena | Sushma Raizada |
| Rohit Moolchandani | Ashutosh Saxena | Shailly Srivastava | Bimla Singh |
The Group holds mass awareness campaigns, environment protection education programs, intellectual discussions, and so on. It also coordinates with the government and law-enforcement agencies in Delhi to create a healthy living environment for people.
You are invited to join the Green Group of Delhi as a member by filling in the online form given below. People from the entire city of Delhi, Gurgaon, Noida, and Faridabad can join the Green Group as members. More than 1 person from a family can become the member by providing their details in separate forms.
Thank you
Rakesh Raman
463, DPS Apts., Plot No. 16, Sector 4
Dwarka, Phase I, New Delhi 110 078, INDIA
Online Form
Donate for the RMN Foundation Charity
Donate for a cause. Your donation will help us provide our services to the poor and the needy. You can choose the amount that you want to donate from the options given below. 
You also can select any of the Payment Methods:
Offline Donation: To know our bank details for online bank transfer and payment by cheque.
PayPal: To make payment by Credit / Debit Card or PayPal account.