The major activities of the Green Group of Dwarka are around environment protection to save the environment from air pollution, dust pollution, noise pollution, water pollution, etc. in order to minimize the effect of pollution on Climate Change.
This is a non-political, non-partisan Group. The activities of the Group are being managed by its members and volunteers. Formed in August 2017, the Group has begun its journey from Dwarka, which is the largest residential suburb in Asia with a population of more than 1 million. However, it will soon cover other parts of India's capital New Delhi, which is among the most polluted and the dirtiest cities of the world.
A new research report released by RMN Foundation reveals the worsening environmental situation in Delhi because of increasing air pollution. Click the following link to read the report.
[ Poisonous Particles + Noise Nuisance = Death for Delhi ]
Recent Environment Events in India
Recent Environment Events in the World
What Is Climate Change?
Climate Change refers to the change in the distribution of weather patterns over a period of time – usually measured over decades to thousands of years. Climate Change is caused by natural factors as well as human activities.
Natural factors such as variations in solar radiation received by Earth, plate tectonics, and volcanic eruptions contribute to the change in global weather conditions. The human activities that cause Climate Change are referred to as 'global warming'. In the modern environment science, the term 'global warming' is interchangeably used with Climate Change.
The main cause of global warming or the human-led Climate Change is environmental pollution which contaminates the atmosphere with pollutants such as chemicals and energies. Pollution, therefore, has become a major factor that is causing 'global warming' or Climate Change. As compared to the perils of environmental pollution that affect human health, the Climate Change brings mass destruction with floods, droughts, hurricanes, tornadoes, volcanic eruptions, earthquakes, and tsunamis.
Climate Change, which is an emerging subject in the global debate on environment, has assumed greater significance after 2016 Paris Agreement on Climate Change or Paris Climate Agreement.
It is an agreement within the United Nations Framework Convention on Climate Change (UNFCCC) that aims to deal with greenhouse gas emissions mitigation and overall environment protection, starting in the year 2020. As of August 2017, 195 UNFCCC members have signed the Agreement and out of them 160 have ratified it.
By Rakesh Raman
---
Click the Following Image to Download Our Latest Report on Pollution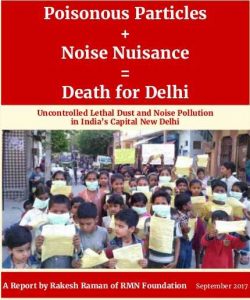 ---
Pollution Level in Delhi: 122 The air in Delhi has an annual average of 122 µg/m3 of PM2.5* particles. That's 12.2 times the WHO safe level. This is an extremely dangerous pollution level. *PM 2.5 concentrations measured in micrograms of particles per cubic meter of air (µg/m3). Click here to know the pollution levels in other cities.
---
Meet our Greeners At present, the activities of the Green Group are being managed by the following members (names in alphabetical order):
The activities of different organizational areas are being spearheaded by the following Green Group members / volunteers:
| | | | |
| --- | --- | --- | --- |
| Public / Media Relations | Outreach Programs | Administration | Development |
| Deep Shree | Balbir Singh | Shailendra Saxena | Sushma Raizada |
| Rohit Moolchandani | Ashutosh Saxena | Shailly Srivastava | Bimla Singh |
The Group holds mass awareness campaigns, environment protection education programs, intellectual discussions, and so on. It also coordinates with the government and law-enforcement agencies in Delhi to create a healthy living environment for people.
You are invited to join Green Group of Dwarka as a member by filling in the online form given below. People from the entire city of Delhi can join the Green Group as members. More than 1 person from a family can become the member by providing their details in separate forms.
You also can download the form and send it at the following address.
Rakesh Raman
463, DPS Apts., Plot No. 16, Sector 4
Dwarka, Phase I, New Delhi 110 078, INDIA
Online Form