The major activities of the Green Group of Dwarka are around environment protection to save the environment from air pollution, dust pollution, noise pollution, water pollution, etc. in order to minimize the effect of pollution on Climate Change.
This is a non-political, non-partisan Group, which is primarily funded by the donations from its members and common citizens. The activities of the Group are being managed by its members and volunteers.
Formed in August 2017, the Group has begun its journey from Dwarka, which is the largest residential suburb in Asia with a population of more than 1 million. However, it will soon cover other parts of India's capital New Delhi, which is the most polluted city in the world.
Click the following links to check out our Environment Newsletter.
EnviroNews September 15 – 30, 2017
EnviroNews September 01 – 15, 2017
Global Environment Newsletter: Join our mailing list.
Click the Following Image to Download Our Latest Report on Pollution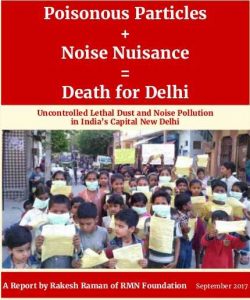 ---
Pollution Level in Delhi: 122
The air in Delhi has an annual average of 122 µg/m3 of PM2.5* particles. That's 12.2 times the WHO safe level. This is an extremely dangerous pollution level.
*PM 2.5 concentrations measured in micrograms of particles per cubic meter of air (µg/m3).
Click here to know the pollution levels in other cities.
---
Meet our Greeners
At present, the activities of the Green Group are being managed by the following members (names in alphabetical order):
The activities of different organizational areas are being spearheaded by the following Green Group members / volunteers:
| | | | |
| --- | --- | --- | --- |
| Public / Media Relations | Outreach Programs | Administration | Development |
| Veena Bhat Pandita | Balbir Singh | Shailendra Saxena | Sushma Raizada |
| Rohit Moolchandani | Ashutosh Saxena | Shailly Srivastava | Bimla Singh |
The Group holds mass awareness campaigns, environment protection education programs, intellectual discussions, and so on. It also coordinates with the government and law-enforcement agencies in Delhi to create a healthy living environment for people.
You are invited to join Green Group of Dwarka as a member by filling in the online form given below. People from the entire city of Delhi can join the Green Group as members. More than 1 person from a family can become the member by providing their details in separate forms.
You also can download the form and send it at the following address.
Rakesh Raman
463, DPS Apts., Plot No. 16
Sector 4, Dwarka, Phase I
New Delhi 110 078, INDIA
Online Form